Cylinder Gases, Welding Supplies & Cutting Solutions
Cylinder Gases
We are pleased to work with Air Liquide, one of the world's leading producers of industrial gases, to offer our customers a full range of gas supply modes along with quality welding supplies, products and accessories to meet their requirements. You're sure to find what you need.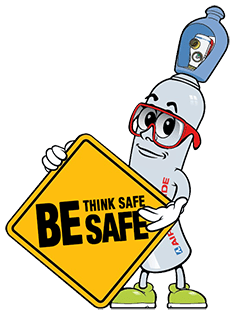 Learn more about our Industrial Gas options: ALbee Customer Owned Cylinders – OR – Cylinder Leasing options thru Air Liquide.
Filler Metals
Choosing the right electrodes and filler metal rods are the crucial first steps in any successful welding project. For companies and individuals looking to make their mark, Blueshield electrodes and filler metal rods provide the best possible weld quality. We have a complete line of mild-steel, low-hydrogen and low-alloy electrodes available.
"Did you know proper storage of consumables is essential for good quality welds? To avoid getting wires dirty or damp, they should be kept in their package in a warm, dry place."
Blueshield Crystal aluminum wire and rods are manufactured to the highest quality standards. Air Liquide's Blueshield Crystal is your best choice to achieve the best possible welds; every time, every spool.
Blueshield stainless steel electrodes, wires, and rods offer the same consistency in operator appeal, quality and performance. Blueshield series stainless filler metals are designed for those high-quality stainless welding jobs.
Plus all welding supplies and products are sold in a variety of convenient and economical sized packaging.
View the Filler Metals Catalogue
Welding Equipment
We offer for sale Miller and Lincoln Electric welding equipment that is designed and manufactured to withstand the rugged welding environment found in the maintenance and construction industries.
GMAW (MIG) Welding
GTAW (TIG) Welding
SMAW (Stick) Welding
Engine-Driven Welder Generators
Plasma Cutting Handheld systems featuring Hypertherm's Powermax line
Tools & Welding Accessories
Welding Safety Products
Fume Extraction Systems
Tools and Welding Accessories
MIG, TIG, Oxygen Cutting & Plasma consumables
Welding Cables
Cable Connectors
Cable Lugs
Electrode Holders
Electrode Rod Guards and Stabilizing Ovens
Ground Clamps
Clamps and Pliers
Contour Marker
Tools and Welding Accessories
Welding Hoses
Welding Safety Products
Welding Jackets and Pants
Welding Aprons, Cape Sleeves, Bibs and Sleeves
Welding Gloves
Personal Protective Equipment
Head & Respiratory Protection
Welding Helmets
Find welding solutions, browse the interactive Blueshield Catalogue.
Air Liquide Main Catalogue
Air Liquide Spring Flyer
Air Liquide MSDS info
Air Liquide tech info
Air Liquide main web site