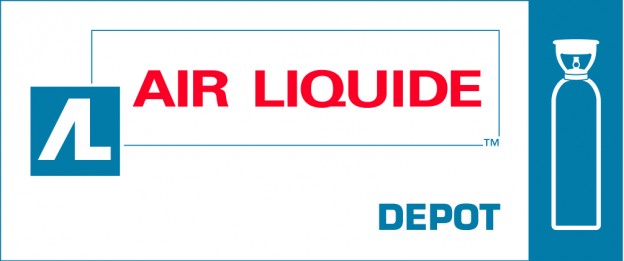 Industrial Cylinder Gases
We are pleased to work with Air Liquide, one of the world's leading producers of industrial gases, to offer our customers a full range of gas supply modes.
The right size for the right job. Be sure to choose the right cylinder size for your application. You can save on rental fees by leasing or even owning smaller cylinder sizes. Ask us to help you determine which size is best for you!
View the Cylinder Gases Catalogue
"Be sure the valve on your cylinder is always protected! If the valve or the regulator snaps off the cylinder, all the power is unleashed through an opening no larger than a pencil. The cylinder will jet away faster than any dragster. The cylinder will smash through brick walls. The cylinder will spin, ricochet, crash and splash through anything in its path."
Oxygen
Oxygen is commonly used in industrial applications in conjunction with acetylene and other fuel gases in processes such as metal cutting, welding, flame hardening, scarfing, cleaning, hard-facing, etc…
Pocket Guide for Oxy-Fuel Gas
Acetylene
Acetylene is a standard fuel gas used in conjunction with oxygen for welding metals and cutting steel, and for allied oxy-acetylene processes for the heating, forming and treating of metals.
Air-acetylene flames also are, in general, used for brass and aluminum soldering and other plumbing applications where the very high temperature of the oxy-acetylene flame is not required.
"In oxy-acetylene applications, keep safety in mind. Flashbacks occur when the flame passes right through the tip and torch into the hose. It can be very dangerous as it may cause the cylinder to explode. Use flashback arrestors to protect the operator from the hazards of flashbacks."
MAPP
MAPP is used in all flame processes in which acetylene, propane and natural gas can be used with oxygen. The air-MAPP flame is also used to replace air-acetylene. MAPP is ideally suited for use in machine or hand oxy-cutting. MAPP is also safer than acetylene because it is less explosive (not sensitive to shock), and of lighter weight making cylinders more portable.
Argon
Argon is an inert gas that is often used in shielded arc processes for welding aluminum, stainless steel, bronze and copper. In these processes, argon is used as a shielded gas, either in pure form or in combination with predetermined percentages of oxygen, carbon dioxide or helium, depending on the metal being welded. The shielding gas provides an inert atmosphere during the welding to prevent oxidation or other chemical change of the metals that would be detrimental to the weld.
Argon is also used for inerting in other industries such as wine-making and food applications.
Nitrogen
Nitrogen is used in purging applications for the heating/ventilation/plumbing industries.
Large volumes of nitrogen are required by oil refineries and petrochemical industries for purging and blanketing operations.
Nitrogen is being used at a sharply increasing rate by the food industry. In its liquid form, nitrogen is employed to quick-freeze a wide variety of perishable foods, some of which cannot be successfully frozen by conventional methods. In its gaseous form, nitrogen is used in storage facilities for fresh produce to delay normal ripening and deterioration.
CO2
In addition to its well-known and extensive use as the carbonating and dispensing medium in the beverage industry, carbon dioxide has numerous other widely varying uses in many different industries.
For example, in metal fabricating operations, CO2 is widely used as a shielding gas in a semi-automatic welding process.
In the food industry, CO2 is employed for processing, packaging, transportation and refrigeration of meat products, frozen foods, dairy products and as an inert atmosphere over perishable packaged products.
"Welding in confined spaces? Ventilate the area properly; welding fumes can be hazardous to your health."
Blueshield Shielding Gases
Regardless of the type of steel you are welding, whether thick or thin, Air Liquide has the optimal shielding gas for your application. Contact us. We'll show you how to improve your welding application with Blueshield gases.
ALMIG, ALTIG Shielding Gases
Still using pure gases for welding? Try Air Liquide's value-added mixed gases. Choosing the right gas has never been so easy!
ALMIG is the optimum choice for MIG applications for carbon steel. Excellent weld bead appearance. Ideal for thin-gauge, autobody applications.
ALTIG for TIG applications. Fast puddle initiation. Improved welding power. Fast travel speed. Can also be used for MIG welding of aluminum and non-ferrous alloys.